Last Updated on April 18, 2023 by Juli "Jewels" Church
Wondering where to buy the best baby earrings?
You're in the right place. 
In this Learning Guide, you'll see my picks for Best Baby Earrings as well as the answers to these questions:
Where To Buy Safe Earrings For Babies?
What Are The Best Earrings For a Baby Girl?
What The Are Best Earrings For Toddlers With Sensitive Ears?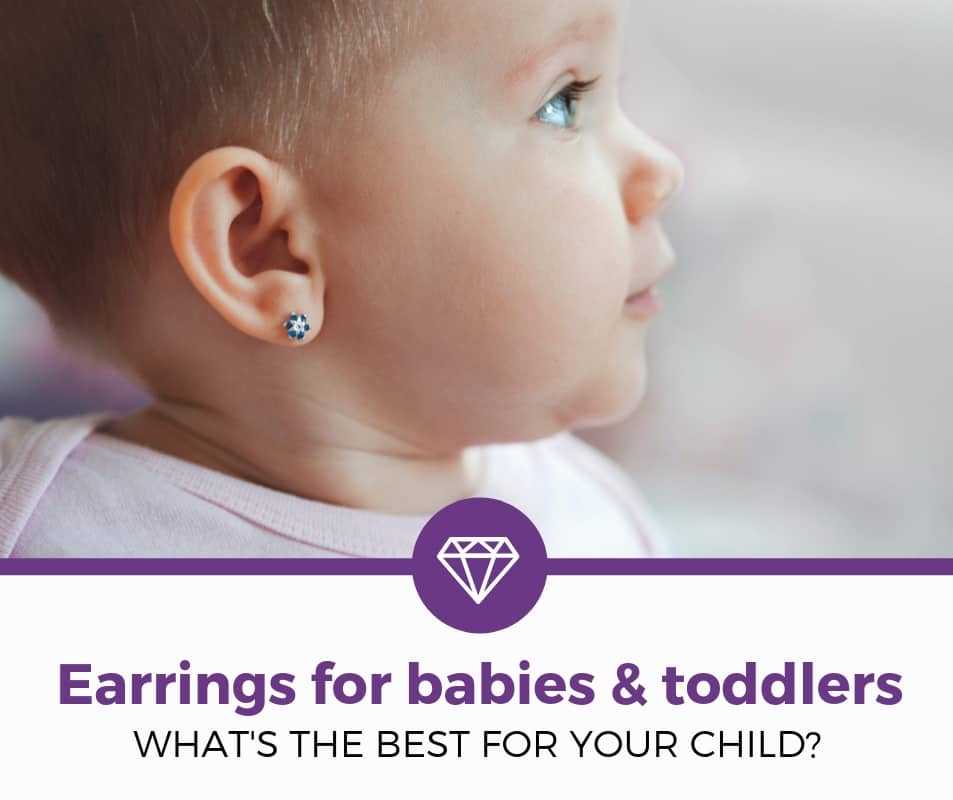 Let's get into it!
Product
Details

1. Stainless Steel Hypoallergenic 316L Earrings

5-Pairs Set Collection

AAA+ Cubic Zirconia
Nickel-Free, Lead-Free
Different Colors

CHECK CURRENT PRICE

2. Presentski Sterling Silver Cute Mouse Pink Earrings

Mickey Mouse Silhouette

Cubiz Zirconia Studs
Hypoallergenic, Nickel-Free
Comes with Jewelry Box

CHECK CURRENT PRICE

3. Sterling Silver Unicorn Earrings

Colorful Unicorn Design

925 Sterling Silver
Different Colors
Hypoallergenic

CHECK CURRENT PRICE

4. 925 Sterling Silver Screwback Baby Girls Earrings

Diamond Alternative

Poplar Cubic Zirconia Gems
Rhodium-Plated Silver
Sterling Silver Post and Backing

CHECK CURRENT PRICE

5. Gold High Polished Shiny Ball Post Stud Screwback Earrings

Authentic Solid Gold

Secure Screwback
14K Yellow Gold - Not Plated
Minimalist Style

CHECK CURRENT PRICE
Top 5 Best Earrings For Babies And Toddlers
If you need the list quick,  check out our top picks for best toddler earrings and baby earrings.
Presentski Sterling Silver Cute Mouse Pink Earrings (best of the best)
Product Reviews
These earrings are made from high-quality sterling silver and cubic zirconia.
They come in two different colors: pink and blue.
The size and design of the earrings makes them them suitable as the best toddler earrings. Using sterling silver that is nickel-free, these are also best hypoallergenic earrings for toddlers. 
They also come with a small butterfly to secure them in place.
Pros
Nickel free sterling silver, perfect hypoallergenic earrings for toddlers
The best toddler earrings have fun recognizable features, to kids such as Disney
The earrings are presented in an attractive jewelry box, which makes them an ideal gift for family and friends
Cons
Not recommended use for newborn earrings or infant earrings due to longer posts
The earrings are a little heavy, so they can be uncomfortable for some babies
The earrings need to be frequently cleaned according to the product description, so they may be difficult to maintain
---
These beautiful unicorn-shaped earrings are designed exclusively for young babies and toddlers.
They are made from 925 sterling silver. They are one of the best earrings for toddlers with sensitive ears. Even better, they come with short posts, making them safe earrings for babies too. 
Pros
Made of high-quality sterling silver for the safest earrings for toddlers with skin sensitivities
The unicorn design has a universal appeal to most children
The earrings come in a variety of different colors so you can select the style that match the personality of your child
Cons
There have been complaints that the earring stems have come loose
The earrings are extremely delicate and easily damaged by chemicals and abrasions
These infant earrings are best for a baby girl, not necessarily unisex or alternate design for boys
---
These classic and minimalist earrings are my favorite for best newborn earrings. 
You'd think the best earrings for babies would include each phase of a young child: newborn, infant, and toddler. 
But since ears get bigger, my top pick might not be the best pick for your child's life stage. The best infant earrings and the best toddler earrings are going to be safe earrings for babies at any stage. These are the ones. 
They also come complete with a screwback mechanism that secures them in place. The smallest earrings come in a size of 4mm, which means they perfect for newborn earrings. It's difficult to find ones with short enough posts
They are made from solid gold and are nickel-free.
Pros
These earrings come with a branded MASSETTE certificate so you know that these are the real deal
These earrings are made from solid gold and are not plated, which increases their value and quality
These are best for young infant earrings
Cons
There have been complaints that the back of the earrings do not stay in place
There have also been complaints that the earrings break easily
---
These stylish silver plated earrings are made of 92.5% sterling silver and add a little bit of sparkle to your child's outfit. These are the best earrings for toddlers with faith based roots. 
There are no toxic materials such as nickel and lead, making them one of the best earrings for toddlers with sensitive ears. 
They come complete with screw backs, which securely locks the earrings in place, making them safe earrings for babies and also one of the safest earrings for toddlers
Unlike many similar sterling silver earrings on the market, the Poplar Cubic Zirconia Set does not get damaged when exposed to the elements.
This means that you never have to worry about buying a new pair of earrings every time your child goes out in the wind and rain.
The earrings come in the following 3 sizes: 4mm, 5mm and 6mm, so you can choose the one that suits you the most.
Last but not least – the earrings are an affordable alternative to diamonds, and its high-quality cut combined with that added sparkle will make your child will look like royalty.
Pros
The earrings are made from high-quality metals that do not rust or diminish with time
Hypoallergenic earrings for toddlers
The screw back increases comfort because there is no needle to poke the earlobes
Cons
The small size of the screw back makes it difficult and awkward to insert the earring back onto the earlobe
There have been complaints that the wire that holds the cross onto the rest of the earring has come loose
At 6mm x 8mm, could be the best toddler earrings, but not the best baby earrings
---
Out of the products we reviewed, our top pick goes to these simple stainless steel studs.
The set comes in 5 pairs with different gauge sizes. They are set in either 316L stainless steel, rose gold, or yellow gold.
These studs are simple, low profile, 100% nickel-free and lead-free for sensitive baby skin.
Pros
Earrings are made up of ultra-high quality 316L stainless steel ideal for sensitive skin
The 3 different colors make them ideal for both babies and toddlers, which means you can save money
There are 5 different pairs in different sizes
Cons
There have been reports that the backs of the earrings bend easily
The plastic backs can be a little awkward to screw on
Earring posts have a tendency to fall off if the back isn't tight enough
---
What Are The Best Earrings For Toddlers?
The best toddler earrings are noticeably smaller than adult earrings, and quite often have a visual appeal that is exclusively designed for small kids and babies.
The chemical composition of these earrings is usually different from those created for adults because most countries in the world have laws that regulate the amount of a number of toxic metals such as lead, nickel, or cobalt that can be used in baby earrings.
For example, the Canadian government restricts the amount of a number of toxic metals such as lead and cobalt that can be used in earrings designed for little ones under the age of 15, whereas the same restrictions do not apply to adults.
In the USA, the federal government does not restrict the amount of nickel that is used in jewelry, but if products are advertised as "nickel-free" then by law, they must have been tested.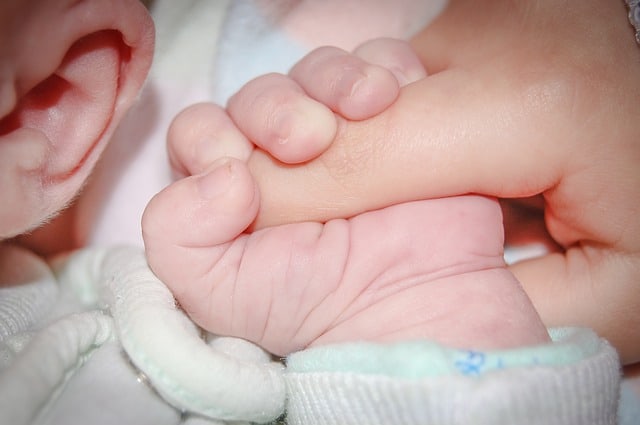 Some states such as California, do have restrictions on the type of metals that can be used in jewelry, particularly those that are meant for babies and toddlers.
High-quality and the overall best earrings for kids are made from sterling silver, gold, or surgical steel, and these metals are non-toxic, comfortable for most toddlers, and long-lasting.
Low-quality baby earrings will be made from flimsy materials such as plastic.
They may also include traces of nickel or lead, which are known to irritate sensitive skin, according to research from the Agency for Toxic Substances and Disease Registry.
Other qualities that are exclusive to baby earrings and toddler earrings include:
Shorter posts that do not poke the earlobes of young children who have smaller ears
The clasp that holds the earring in place is often smaller and tighter than adult earrings
This means you do not have to worry about the earring falling out when the your baby or toddlers is playing or running.
The screws on the backs of the earrings are very unique. They tend to be smoother on the bottom and have a tighter fit.
This makes them more comfortable for little ones to wear and makes them less of a choking hazard.
Popular baby earrings and toddler earrings include those shaped like Disney characters, birthstone earrings, which are crystals that are widely thought to represent the months of the year, and bright, colorful earrings shaped like animals or cartoon characters.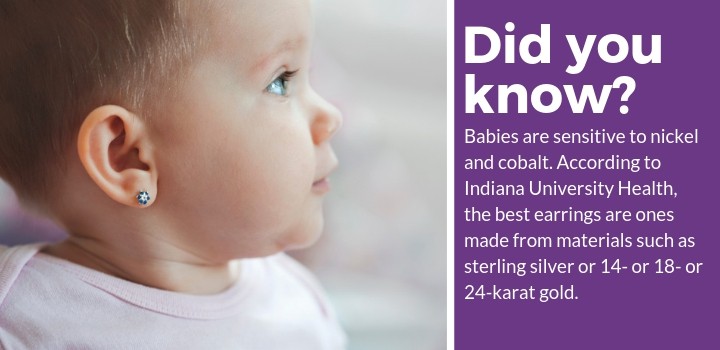 How To Pick The Best Toddler Earrings or  Infant Earrings
When selecting the best earrings for babies and toddlers, there are several things you need to consider, such as the metal, quality, size, and style. We look at each of these in further detail below.
High-quality metals vs low-quality metals
To find the best earrings baby and toddler earrings, pay close attention to the materials.
Babies have undeveloped immune systems that make them particularly sensitive to nickel and cobalt.
The best materials to choose, according to Indiana University Health, are ones made from materials that do not irritate the skin such as sterling silver or 14- or 18- or 24-karat gold.
Another safe metal is surgical stainless steel, which is hygienic and durable.  
On the other hand, metals such as nickel and cobalt can cause conditions such as dermatitis. According to the Dermnet NZ medical website, one of the most common sites of jewelry allergy is the earlobes.
Therefore, when selecting baby earrings and toddler earrings, be sure to avoid nickel and instead opt for high-quality metals such as sterling or silver.
If you cannot afford sterling silver or gold, surgical steel or platinum are affordable alternatives.
Size
Choosing earrings for babies and toddlers is not as straightforward as simply selecting the smallest size.
If you pick the wrong size for your child, it will either look too big and bulky for their earlobes, fall off, or cause discomfort.
There is obviously a big difference between a one-year-old baby's earlobes and a 3-year-old child's earlobes, so age and earlobe size are important considerations when you are buying earrings made from precious gemstones and crystals.
Earrings made from precious gemstones are naturally heavier than other types of earrings, which will the best toddler earrings, but may be impractical for a baby. Keep this in mind when you buy jewelry for your child.
Choosing the right size means your child will be less likely to pull out the earrings or tamper with them.
Style
The style you should choose is mostly a matter of personal taste. In some ways, your choice could be based on the personality of your son or daughter.
For example, if you have a lively child that loves the color blue, consider buying them some bright, blue earrings that represent their bubbly nature.
If the earrings are for a special event such as a wedding, then investing in a more expensive pair of earrings that are only worn for rare occasions may be worthwhile.
However, if you are buying earrings for a baby as opposed to a toddler, hoop earrings or bulky earrings are not recommended, so you should instead opt for studs.
This is because hoop earrings are too heavy for a baby and can cause serious injury if they get caught on something. These are not safe earrings for babies. 
How to test for nickel
Signs of nickel allergy include rashes and irritation, according to healthcare experts at the Mayo Clinic, so it is important to ensure earrings do not contain this before you buy them.
Unfortunately, there is no reliable way to tell whether a pair of earrings contains nickel simply by looking at them.
However, many jewelry vendors will list the metals that are used to make the earrings.
High-quality earrings are usually advertised as nickel-free, so be on the lookout for this before purchasing.
There are also many commercial chemical products on the market such as Nickel Alert and Nickel Solution, which can help you to detect nickel in existing jewelry.
You can test for nickel by putting a few drops of these liquids onto a swab and rubbing it against the earring. If the color of the swab turns red or pink, it is an indication that the earrings contain nickel.
What Makes Newborn Earrings, Infant Earrings, and Toddler Earrings Different?
This section looks at how earrings for babies and toddlers are different from older children and adults.
Naturally, children's earlobes are smaller than adults', so this is why they are designed to have shorter posts and tighter clasps.
However, there are also a few key differences between earrings designed for babies and those designed for toddlers.
The best baby earrings are designed to be extremely light – almost weightless, compared to those used by older children and adults.
How earrings for babies are different from any other type of earring
Earrings for babies are typically between 3mm-4mm, so they are an ideal fit for very young children with newly pierced ears
They are also made from very light and thin cuts of metals to avoid being too heavy for sensitive and fragile ears
High-quality baby earrings have very smooth and small screw back covers instead of butterflies so there is no risk of the earring post coming into contact with the baby's earlobes
Most earrings for babies are designed to be flat studs as opposed to hoops.
This significantly reduces the risk of injury resulting from babies pulling on the earrings
Baby earrings must not contain any traces of nickel, lead or cobalt, because even trace amounts of these metals can cause irritation to a baby's ears
How are earrings for toddlers different from any other earrings?
Toddler earrings can measure anywhere between 3mm and 5mm, which is smaller than those designed for adults and older children
However, they can also be slightly larger than those designed for babies
These earrings are made from thin metals so they are not too heavy for the child's ears. They can sometimes be slightly thicker than those created for babies
The designs of toddler earrings can be either studs or very small hoops
Medium-sized earring hoops are suitable for older children over the age of 4, but not for younger toddlers
Like babies earrings, those designed for toddlers must not contain toxic metals such as nickel or cobalt
Toddler earrings can have either butterfly or screw-back covers.
However these are designed to be much smaller than those used by adults and older children, so they do not rub against the toddler's ears
Where To Buy The Best Earrings For A Baby Girl?
Reputation, quality, and value for money are important considerations when it comes to choosing a vendor to buy earrings from.
You'll find plenty of stores online that claim to sell the best earrings for babies and toddlers and it can be a little overwhelming for parents who are hunting for the best deal.
This is one of the reasons we recommend Amazon, which is really a collection of stores.
Final Thoughts
Now, my personal favorite in this review is the Stainless Steel Hypoallergenic 316L Earrings. I love how simple this 5 sets of stainless steel studs would complement the baby's cute face and at the same time it's undoubtedly best suited for their sensitive skin.
What's your pick? Is it the stainless steel, the rose gold or the yellow gold? Or you have chosen another set? But whichever your choice is, I'm sure all of the above reviewed items are safe for your baby.